S Loft Furniture & Decor was established to provide tasteful, elegant, and high-quality furniture and home decor items at affordable prices.
Our furniture products are crafted out of the finest hard woods and never mass-produced. Our home decor items are made by expert artisans from around the world. We source our products responsibly,
We buy directly from factories worldwide, eliminating the middleman, and pass on the savings to our customers.
Our furniture products are environmentally friendly as well.
Quality At An Affordable Price
We Source Our Products Responsibly out of the Finest Woods and Fabrics.

Our Slashed Prices are what our competitors offer for the same products.

Visit Our Retail Store at 4123 Oakton Street, Skokie, IL
- To view our one of a kind furniture and thousands of exquisite and unique home decor items.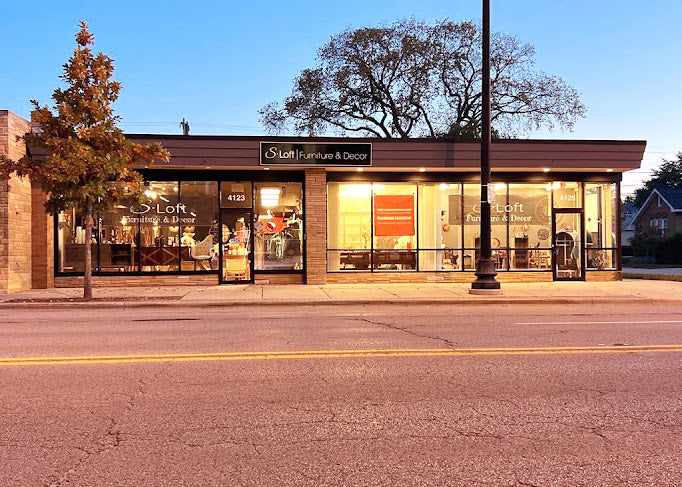 Locations
Main Location:
4123-4125 Oakton Street
Skokie, IL 60076
(Retail Store)
Warehouse (By appointment only):
1100 W Cermak Ave, Chicago IL
DIRECTIONS TO MAIN LOCATION
AMAZING CUSTOMER SERVICE

We pride ourselves on providing excellent customer service to every customer who walks into our store or messages us online. We only hire affable, courteous individuals who strive to create a pleasant and enjoyable customer service experience. Our trained sales staff will help you every step of the way during your shopping experience at S Loft Furniture & Decor.

STAY UPDATED ON OUR ITEMS

We sell 1000's of unique, handcrafted products at our store in Skokie in addition to items that are displayed on our website. We constantly bring in new merchandise as our inventory moves fast! So visit our Skokie storefront location or the online store today to find that elusive piece of furniture or home decor item.
MONDAY & TUESDAY APPOINTMENT ONLY

WEDNESDAY 2PM-6PM

THURSDAY 2PM-6PM

Friday: 11AM-7PM

Saturday: 10:30AM-7:30PM

Sunday: 11AM -6PM

* HEAVY, LARGE, FURNITURE PIECES COULD ONLY BE PICKED UP AFTER HOURS