GRAND OPENING SALE
ADDTIONAL 20% OFF DISCOUNTED PRICES
USE CODE SLOFT20
Quality at an affordable price
We Source Our Products Responsibly out of the Finest Woods and Fabrics.

Why Pay More Elsewhere? Our Prices are always lower than our competitors.

Visit Our Retail Store at 4123 Oakton Street, Skokie, IL
- To view our trendy and exquiste furniture and thousands of handmade home decor items.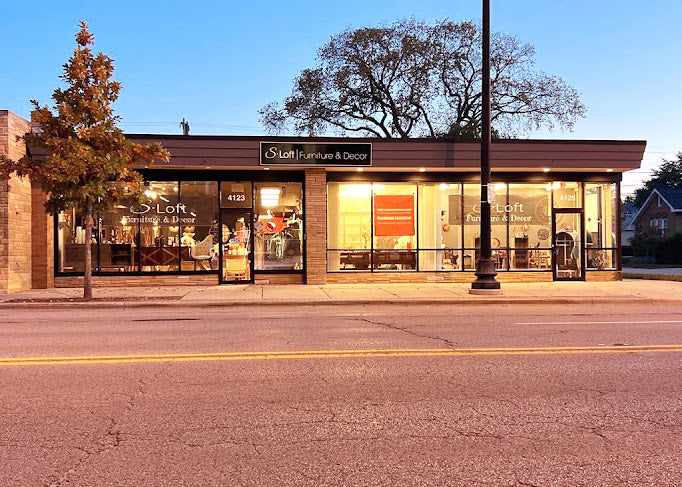 Locations
Main Location:
4123-4125 Oakton Street
Skokie, IL 60076
(Retail Store)
Warehouse (By appointment only):
1100 W Cermak Ave, Chicago IL
DIRECTIONS TO MAIN LOCATION
MONDAY & TUESDAY APPOINTMENT ONLY

WEDNESDAY 2PM-6PM

THURSDAY 2PM-6PM


Friday: 11AM-7PM


Saturday: 10:30AM-7:30PM


Sunday: 11AM -6PM


* HEAVY, LARGE, FURNITURE PIECES COULD ONLY BE PICKED UP AFTER HOURS

PICKUP & PURCHASE AT 4123 OAKTON STREET, SKOKIE IL, 60076
AMAZING CUSTOMER SERVICE

We pride ourselves on providing excellent customer service to every customer who walks into our store or messages us online. We only hire affable, courteous individuals who strive to create a pleasant and enjoyable customer service experience. Our trained sales staff will help you every step of the way during your shopping experience at S Loft Furniture & Decor.

STAY UPDATED ON OUR ITEMS

We sell 1000's of unique, handcrafted products at our store in Skokie in addition to items that are displayed on our website. We constantly bring in new merchandise as our inventory moves fast! So visit our Skokie storefront location or the online store today to find that elusive piece of furniture or home decor item.
Reviews
With over 5 years in bussiness and a team with decades of exprience in the furniture industry. We present our google page for our retail location.